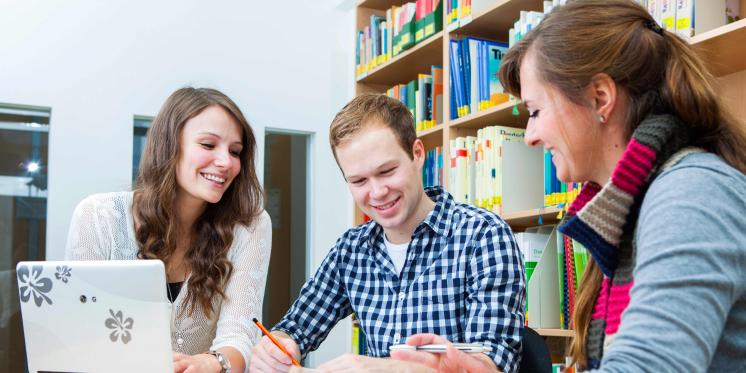 Start to Study
In an introductory week held before the beginning of the first semester new students are given all the information they need for a successful Business Chemistry course at WWU.
The introductory week includes an introductory event organized by the study coordinators and two preliminary courses to prepare the students for the courses in Business Administration they will soon be embarking on. The Fellow-Student-Program supports students and gives orientation throughout the whole study.
Introductory Courses

Our study coordinators provide a general overview over the Start to Study in an introductory event. In this event the university departments in which the students will soon be studying and the most important research institution will be introduced. Moreover, the contact persons for the topics "Social Matters", "Finances" and "Careers" are presented and concrete advice for the study in Münster is given. Since many students gained little or no experience in a course of economic sciences, an introduction to learning and working in economic sciences is given as well. In addition, we are offering pre-courses in business administration and economics.

Preliminary Courses

In order to ease the transition from a Bachelor's course in Natural Science to an interdisciplinary course in Business Chemistry, the basics are provided in two preliminary courses, compact and easy to understand:

Pre-course Business Administration

Pre-course Economics

Introduction
Business Management
Legal Form, Locational Choice, Liquidation
Production and Marketing
Investment and Finance
Accounting

Introduction
Consumer Choice
Theory of the Firm

Incidentally, these preliminary courses were set up on the recommendation of our students. Acting in line with the needs of our students, and on the feedback we get from them, is one of the declared aims of the Institute of Business Administration at the Department of Chemistry and Pharmacy.

Fellow-Student Programme

In the Fellow-Student Programme, Business Chemistry students from higher semesters provide individual, uncomplicated assistance during your studies, as equals. In addition to the help provided by the students council, this gives you someone experienced at your side who can help you in the minor problems of everyday student life and give useful tips on your studies. This means that, together with the study coordinators at the Institute, there is a comprehensive network of contacts available to you from the very beginning of your studies.