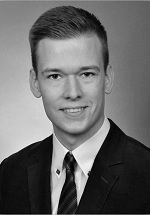 Research Areas

Technology Transfer in the field of Energy Storage Technologies
Technology Assessment and Patent Analysis
Open Innovation and Regional Innovation Systems

CV

Education

since

Doctorate Program at Institute of Business Administration in the Department of Chemistry and Pharmacy at University of Münster, Dr. rer. nat.

-

Studies at "Clausthal University of Technology", in the master degree program "Business and Engineering, Branch of Study: Materials Technology, M.Sc."

-

Studies at the "Fachhochschule Münster University of Applied Sciences", in the bachelor degree program "Industrial Engineering with Chemical Engineering, Specialization: Chemical Process Technology, B.Sc."

Positions

since

Research Assistant at Forschungszentrum Jülich GmbH, Institute for Energy and Climate Research, IEK-12: Helmholtz-Instite Münster – Ionics in Energy Storage

-

Creation of a master thesis at Fraunhofer Institute for Manufacturing Technology and Advanced Materials IFAM in Dresden

-

Internship and creation of a bachelor thesis at ThyssenKrupp Uhde GmbH in Dortmund

External functions

since

German chemical society - Association for Chemistry and Economy

Publications

.

. 'A multi-level perspective approach to facilitate sustainable transitions – The way of German OEMs to electric vehicles.' Contributed to the XXX ISPIM Innovation Conference, Celebrating Innovation - 500 Years since Da Vinci, Florenz, Italien. [Submitted]

.

. 'The role of Local Open Innovation Workshops (LOIW) to facilitate university industry collaboration in regions.' Contributed to the R&D Management Conference 2018 "R&Designing Innovation", Milan, Italien.

.

. 'Exploring university-industry-collaboration-networks from German battery research – An innovation-ecosystem perspective.' Contributed to the ISPIM Connects Fukuoka "Solving Challenges Through Innovation", Fukuoka, Japan.

.

'Reviewing technological development of anode materials for LIBs – A public research and industry based perspective.' contributed to the Advanced Battery Power 2018, Münster, Deutschland, .
Advanced Battery Power 2017, Aachen, Germany, .
'Innovation promoters in technology transfer and insights from "Technology transfer between science and industry".' contributed to the

.

. 'How do university technology transfer policies meet specific needs of interdisciplinary research? – The case of German battery research.' Contributed to the The ISPIM Innovation Summit "Building the innovation century", Melbourne, Australien.

.

. 'Technology strategies in a setting of multi cross industry innovation – A patent-based approach.' Contributed to the PICMET'17 "Technology Management for the Interconnected World ", Portland, Oregon, USA.

.

. 'Overcoming impediments of technology commercialization in battery research - Which symphony is the passion orchestra playing?' Contributed to the The XXVIII ISPIM conference "Orchestrating the innovation symphony", Wien, Österreich.