Our service for employers
Your jobs in our career portal KAP.WWU
You want to post jobs, internships or career events at the University of Münster? You want to find interesting candidates from all faculties and contact them directly? You want to present your company with a profile? Register at the career portal KAP.WWU.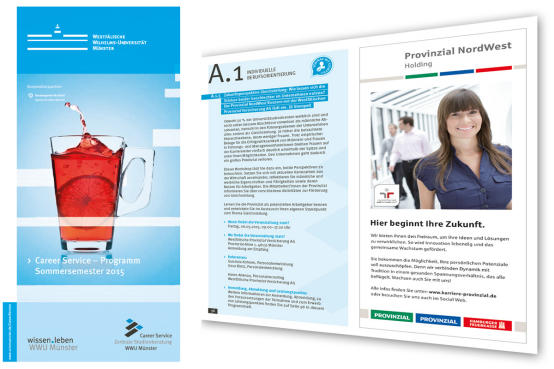 Your advert in the Career Services programme
The Münster Career Services programme is published each semester with a print run of 10,000 copies. The 120 page brochure is distributed to students and graduates in a targeted way and is the primary medium for information on professional orientation at the University of Münster. Businesses, educational institutions, publishing houses, service providers,
etc. have the opportunity to place commercial advertisements. We will be happy to provide further information on advertising prices and further terms and conditions.
Collaboration with individual faculties
You would like to present your company within a specific faculty or are looking for specific contacts with teaching staff and students from selected course areas? The Career Services can help you make contact.