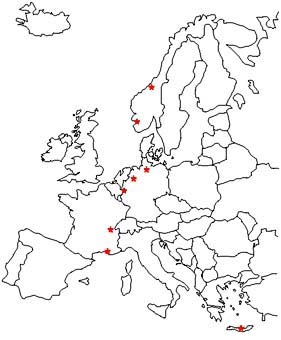 The CARAPAX project will involve all steps from the production and chemical or enzymatic processing of the raw material to the chemical and immunological characterisation of the chitosans, to their application as plant protectants in plant/pathogen combinations relevant to EU agriculture. To this end, the CARAPAX consortium combines the expertise of renowned European partners from Academia and Industry for the preparation and characterisation of chitosans of high purity and clearly defined quality far exceeding those achievable today.
Click the locations highlighted in the map for partner details
or choose from the links below.
Trondheim, Norway
Haugesund, Norway
Hamburg, Germany
Münster, Germany
Aachen, Germany
Villeurbanne, France
Marseille, France
Heraklion, Greece