History of the Bible Museum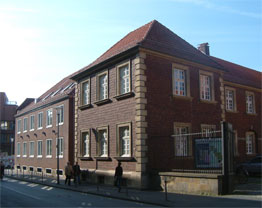 The museum was founded as a department of the Institute for New Testament Textual Research by Prof. D. Kurt Aland and was opened with a ceremonial act on 8th March 1979 in the presence of Federal President Walter Scheel. In 1983 Prof. Lic. Dr. Barbara Aland became its director and she was followed in October 2004 by Prof. Dr. Holger Strutwolf.

The basis of its holdings is a private collection. Some parts of the older holdings of the Institute of New Testament Textual Research were added to this. In the course of the years the collection was expanded further with significant exhibits; furthermore, it is continuously augmented by changing items on loan from a private manuscript collector from Norway.

About 350 exhibits are on display, with further parts of the holdings accessible to the public in special exhibitions of the museum.

In the course of the years the museum has again and again organised exhibitions abroad, e.g. at Brussels, Düsseldorf or for the church congress at Gelsenkirchen. Apart from that the museum regularly provides Bible exhibitions by other organisers with exhibits from its substantial holdings.