Lennart Kruijer M.A.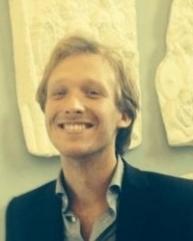 Lebenslauf

WS 2007- SS 2011
Studium der Fächer Archäologie und Ur- und Frühgeschichte an der Universität Amsterdam (UvA) mit dem Schwerpunkt Klassische Archäologie; Nebenfächer: Italienisch, Mittelalterliche Geschichte und Literaturwissenschaft.
2011
B.A. "Een analyse van graven XIII, XV en XXII in grafveld PdC II-veld 3 te Satricum"
WS 2011- SS 2015
Forschungsmasterstudiengang in Mediterraner und Klassischer Archäologie an der Universität Leiden
2015
M.A.

"The Hylas panel from the Basilica of Iunius Bassus. Understanding 'Egypt' in Rome in the Fourth Century CE"

2016
Trainee am Königlich Niederländischen Institut in Rom im Rahmen des

"Santa Prisca" Projekts

Seit 2017
Doktorand an der Universität Leiden im an der Forschungsstelle Asia Minor angesiedelten Teilprojekt Samosata des Forschungsvorhabens Innovating Objects. Global Connections and the Formation of the Roman Empire (200–30 BC).

Forschungs- und Interessenschwerpunkte

Das hellenistische Samosata
Materielle Kultur des hellenistischen Kommagene
Globalisierung in der hellenistischen Welt
Objektbasierte Ontologie

Publikationen

Aufsätze

L. W. Kruijer 

‒

J. Hilbrants

‒ J. Pelgrom

‒ M. Taviani,

'The Santa Prisca Project - Unlocking the Legacy Data of the Dutch Santa Prisca Excavations on the Aventine (1964-1966)', BABesch 93, 2018, 185

‒

204 (in Druck).
L. W. Kruijer,

'

Itinerant semantics in Late Hellenistic Samosata: the impact of global objects [introduction to research]', TMA (in Druck)

L. De Gelder ‒

L. W. Kruijer, Het Santa Prisca Project. Op zoek naar de wortels van de Nederlandse Archeologie in

Italië, Roma Aeterna 4.I, 20

‒33.

L. W. Kruijer, Nieuwe verhoudingen: egyptianiserende wanddecoratie in laatantiek Rome, Roma Aeterna 2.II, 130

‒141.

J. Waagen

‒ R. Kalkers

‒ L. W. Kruijer, OpenArchaeoSurvey, An Introduction, TMA 49, 2013, 72.


P. M. M. G. Akkermans ‒ M. Brüning ‒ N. Hammers ‒ H. Huigens ‒ L. W. Kruijer ‒ A. Meens ‒ O. Nieuwenhuyse ‒ A. Raat ‒ E.F. Rogmans ‒ C. Slappendel ‒ S. Taipale ‒ S. Tews ‒ E. Visser, Burning Down The House: The Burnt Building V6 at Late Neolithic Tell Sabi Abyad, Syria, in: C. Bakels ‒ H. Kamermans (Hrsg.) The End of Our Fifth Decade, Analecta Praehistorica Leidensia 43/44 (Leiden 2012) 307‒324.

J. Waagen, J. ‒ R. Kalkers ‒ L.W. Kruijer, De Survey Archaeology Website, TMA 48, 2012, 6.

 

Rezensionen

L. W. Kruijer, Review of: Abadie-Reynal, C. Yon ‒ J.B. Yon (Hrsg.),  Zeugma VI. La Syrie Romaine. Permanances et transferts culturels (Lyon 201, Bibliotheca Orientalis LXX IV 5-6, 640‒ 647.

L. W. Kruijer, "We are not architects' – Review of Anna Vos' Architect's Perspective on Houses', in: Publication Graduate School of Archaeology Occasional Papers 14, 2015.