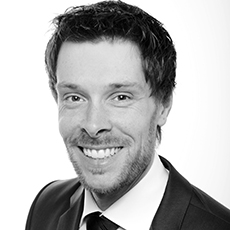 Dr. Dominik Rumlich, Juniorprofessor

Dominik Rumlich's areas of teaching and research include CLIL, assessment, affective-motivational determinants of language learning (esp. EFL self-concept and interest), learning strategies, and empirical research methods (esp. quantitative). He is currently involved in multiple research projects on CLIL, assessment, young adult fiction in the language classroom, the transition between primary and secondary school (see below for details) and teacher education.
He studied English and geography at the University of Duisburg-Essen, Germany, and Waikato University in Hamilton, New Zealand. During his studies, he worked as a tutor in the field of statistics (Department of Geography) as well as English linguistics and literature (Institute of Anglophone Studies). Furthermore, he was employed as a student assistant in the Department of Research on Learning and Instruction at the Ruhr-Universität Bochum, where he was involved in several projects on science teaching and, on behalf of the North-Rhine Westphalian Ministry of Education, also conducted some of the PISA tests in 2006. He completed his first state exam (teacher's degree) for German secondary schools (Gymnasium/Gesamtschule) in 2009.
Afterwards, he began his PhD research on Content and Language Integrated Learning (CLIL, aka bilingual teaching; see below) while teaching as a junior lecturer in the section of Applied Linguistics/TEFL Methodology. At the time, he regularly offered courses on the language and culture of Aotearoa, New Zealand. During his time as a PhD student, he worked as substitute teacher at two secondary schools and gained a deep insight into the practice of secondary language teaching. He was also in charge of a large-scale multi-method study on "The school book 2.0" and involved in a project on learning strategies in tertiary education in the department of instructional psychology at the University of Duisburg-Essen (together with J. Hellenbrand). He then became a postdoctoral researcher in the Institute of Anglophone Studies upon completion of his PhD in autumn 2015 and obtained an associate/junior professorship for TEFL (Professor als Juniorprofessor für Didaktik der englischen Sprache) at the University of Münster in October, 2016. He left Münster for a post as deputy  chair of psycholinguistics and second language acquisition (including TEFL) at the University of Wuppertal for two terms before returning to Münster in April, 2018. In addition, he also works as a teacher of English at Hittorf-Gymnasium in Recklinghausen.
If he's not busy working, he dedicates his time to table tennis (as player and coach), badminton, reading, and catching up with friends.
Contact
Department of English
Prof. Dr. Dominik Rumlich
Johannisstraße 12-20
D - 48143 Münster
Room: 218 
Phone: +49 (0)251-83-25618
Fax: +49 (0)251-83-25637
Email: dominik.rumlich[at]uni-muenster.de